By: MOWA Media – media@ciltrak.com
Pontoon Beach, IL (April 16, 2014) – The MOWA Sprint Cars presented by Casey's General Stores will visit Kevin and Tammy Gundaker's Tri-City Speedway near Pontoon Beach, IL for the first of four scheduled tries in 2014 on Friday, April 18.
The series will be part of the "Deuces Wild" event that boasts $2,000 to win feature events for DIRTcar Late Models and DIRTcar Modifieds along with the MOWA Sprint Cars.
In four previous events at Tri-City, a different winner has graced victory circle. Ohio legend Danny Smith picked up the trophy back on July 28, 2011. Jerrod Hull scored the win back on October 12, 2012. Ian Madsen and Terry McCarl shared victory lane in 2013, Madsen's victory coming on July 25 and McCarl's victory coming on October 4.
Grandstand gates open at 5pm. The first practice session is slated for 6:30 with Heat Races at 7:15. Adult grandstand admission is $20 while kids 12 and under are free. Pit passes are $35.
For more information about the MOWA Sprint Car Series presented by Casey's General Stores, visit www.midwestopenwheel .com, follow @mowasprints on Twitter, and like us on Facebook at www.facebook.com/midwestopenwheel.
CONTINGENCY REPORT:
Jacksonville Speedway – 4/11/14
• KSE Racing Products Top Gun Award (Highest Passing Points Total) – 12H Jerrod Hull (1)
• BMRS Hard Charger Award (Highest finishing driver that advances the most A-Main Positions) – 05 Brad Loyet (14th to 2nd) (1)
• VP Racing Fuel Award (Random Draw from A-Main starters) – 2K Ryan Kempin (11) (1)
• Midland Performance Heat Race Challenge (Winner of Heat Race #1) – 12H Jerrod Hull (1)
• Bland Brothers Enterprises Heat Race Challenge (Winner of Heat Race #2) – 82 Kevin Swindell (not awarded – non-member)
• Keizer Wheels Heat Race Challenge (Winner of Heat Race #3) – 5 Tiffany Wyzard (1)
• Competition Suspension Incorporated Award (First non-qualifier) – 5B Kory Bales (1)
• Hoosier Tire Midwest Award (Winner of A-Main) – 12H Jerrod Hull (1)
34 Raceway – 4/12/14
• KSE Racing Products Top Gun Award (Fastest Qualifier) – 24 Terry McCarl (1)
• BMRS Hard Charger Award (Highest finishing driver that advances the most A-Main Positions) – 9 Paul Nienhiser (10th to 2nd) (1)
• VP Racing Fuel Award (Random Draw from A-Main starters) – 2K Ryan Kempin (19) (2)
• Midland Performance Heat Race Challenge (Winner of Heat Race #1) – 24 Terry McCarl (1)
• Bland Brothers Enterprises Heat Race Challenge (Winner of Heat Race #2) – 7 Craig Dollansky (not awarded – non-member)
• Keizer Wheels Heat Race Challenge (Winner of Heat Race #3) – 12H Jerrod Hull (1)
• Competition Suspension Incorporated Award (First non-qualifier) – 10S Jeremy Standridge (1)
• Hoosier Tire Midwest Award (Winner of A-Main) – 24 Terry McCarl (1)
MOWA STATS BLAST:
• Jerrod Hull extended his series-leading win total by scoring his 12th win at Jacksonville
• Terry McCarl broke a tie with Danny Lasoski for fourth on the all-time win list – behind Jimmy Hurley (7) and Danny Smith (6)
• Three drivers made their first ever series starts during the weekend – Kevin Swindell in the Blazin' Racin' #82, 2013 Knoxville Raceway track champion Bronson Maeschen, and Omaha, Nebraska youngster Dakota Hendrickson
• Ten different drivers recorded their best series finishes:
o BRAD LOYET AT JACKSONVILLE – 2ND – ALSO FINISHED SECOND AT MONTGOMERY MOTORSPORTS PARK IN 2013
o CORY BRUNS AT JACKSONVILLE – 5TH WAS 6TH AT LASALLE IN 2013
o TIFFANY WYZARD AT JACKSONVILLE – 8TH – WAS 17TH AT JACKSONVILLE IN 2011
o LEVI CURRY AT JACKSONVILLE – 10TH – HAD NEVER QUALIFIED FOR AN A-MAIN IN FOUR PREVIOUS ATTEMPTS
o CRAIG DOLLANSKY AT 34 RACEWAY– 3RD – WAS 19TH AT 34 IN 2011
o KEVIN SWINDELL AT 34 RACEWAY – 4TH – FIRST SERIES VISIT
o JOSH SCHNEIDERMAN AT 34 RACEWAY – 8TH – WAS 16TH AT 34 RACEWAY IN 2012
o COLE WOOD AT 34 RACEWAY – 10TH – WAS 11TH AT 34 IN 2013
o DAKOTA HENDRICKSON AT 34 RACEWAY – 17TH – FIRST SERIES VISIT
o BRONSON MAESCHEN AT 34 RACEWAY – 21ST – FIRST SERIES VISIT
• Tiffany Wyzard became the first female in series history to earn a Heat Race win after taking charge at Jacksonville
LOOKING AHEAD:
• The MOWA Sprint Car Series presented by Casey's General Stores will host a doubleheader weekend on Friday, May 2 at Lincoln Speedway and Saturday, May 3 at Clay County Speedway
• The Lincoln event was rescheduled from opening night's rainout on April 4
• The visit to Clay County Speedway in Flora, IL will mark the first-ever series visit to the facility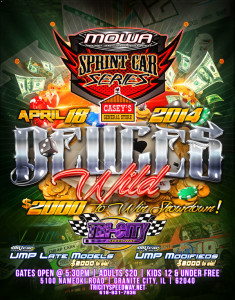 MOWAEntryBlank2014-TriCitySpeedway-Apr18
{ 0 comments }