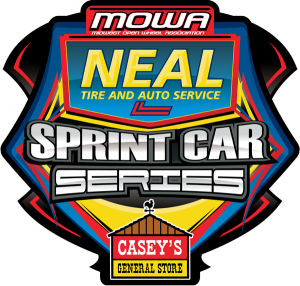 Officials with the Midwest Open Wheel Association have announced a partnership with Neal Tire and Auto Service that will make Neal Tire the title sponsor of the Midwest-based sprint car series for the 2015 season and beyond. Founded in 1925, Neal Tire has 25 retail locations in Illinois, Indiana and Kentucky and is also a leading tire distributor in the Midwest through its sister company Ben Tire Distributors.
In addition to providing direct financial support for the series, Neal has made a significant commitment to enhancing fan experience and engagement at series events.
"Neal Tire is an incredibly great fit for MOWA. When you combine a strong regional racing brand like MOWA with a leading regional automotive service brand like Neal, the possibilities are endless", said Ken Dobson of CILTRAK which manages the MOWA series. This relationship will help MOWA continue to grow into the future and will provide great benefits to our teams, fans and host tracks. The support of Neal with along with our our other major partners, Casey's General Stores and Hoosier Racing Tires ensures a strong foundation for our points fund and driver rewards."
Jeremy Standridge, President of the Midwest Open Wheel Association, believes that the relationship will enhance the experience for fans at MOWA events, "I feel like MOWA has always been a leader in getting fans involved. Neal Tire will help us do things that make for an even better show and hopefully draw even more fans. When you leave one of our shows, we hope fans feel like you haven't just been to a race, but to an event. We think this relationship will help us be even bigger and better in 2015 and beyond."
The series will be known as The Neal Tire Sprint Car Series, presented by Casey's General Stores. 2015 will mark the fifth year of the series and the third straight year of adding a major partner. Hoosier Racing Tires began a multi-year relationship with the MOWA in 2013, and the 2014 season saw the addition of Casey's General Stores.
{ 0 comments }