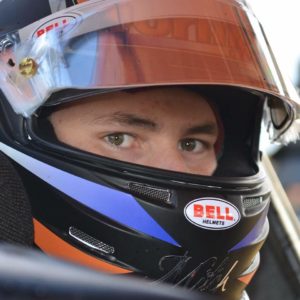 (Bill W) June 12, 2017 – Mundijong, Western Australia's Mitchell Wormall is set to return to the United States.  The twenty-year-old will arrive in mid-June, and his campaign will culminate with the MOWA Illinois Speedweek in late July!
Mitchell made his U.S. debut in 2016 with the MOWA series during Illinois Speedweek.  "Last year when we came over for a trial, to see how everyone operates, how hard it would be, etc.," he says.  "We came back and reviewed all the information that we had attained.  Everything about racing in America was easier, as far as, there were little nomination fees (that could be done on the day, not one and a half weeks before like in Australia).  Tires, parts and methanol was available at the track…it was just easier."
He won't be alone when he comes to the States.  "This year, I am heading over with my crew: Mike Armstrong, Nic Turner, Jaiden Marlow, Rob Lock & Curtis Wormall," says Mitchell.  "We will do 26 shows in under a two-month period. We have two brand new cars getting put together at Kaedings (in California).  We've bought a fifth wheeler trailer from Bloomington, Indiana, and are currently on the look-out for a dually with a pickup point for a fifth wheeler."
Mitchell is excited to run with the MOWA series again.  "I was very impressed by the MOWA series last year," he says.  "From what I gathered, they are a small series, but they put on excellent shows while I was there.  They were all very well organized and presented.  The tracks, the track staff, and all of the MOWA officials were very helpful towards us.  They impressed us that much that we are coming back to do it all again, hopefully with much better outcomes."
The teenager hopes to get better and better.  "I don't really have any goals as such," says Mitchell.   "I have a few races that I want to win, and I will win in time, but all I want is for me to be the best I can while keeping a cool steady head.  Everyone says that their goals are the Australian Sprintcar Classic, or the Knoxville Nationals.  I would love to win these races and when that day comes, if it comes, I will know that I am the best I will ever be.  I have done a lot in such a little time and I just want to be improving each and every year."
Mitchell's first event will be June 16 at Attica Raceway Park as Ohio Speedweek kicks off for the All Stars.  MOWA's Illinois Speedweek gets underway on Wednesday, July 26 at Peoria Speedway.
Twitter: @mowasprints
Follow us on Facebook … http://www.facebook.com/midwestopenwheel
2017 Midwest Open Wheel Association (MOWA) Illinois Speedweek Schedule
Wednesday, July 26 – Peoria Speedway (Peoria, IL)
Thursday, July 27 – Tri-City Speedway (Granite City, IL)
Friday, July 28 – Jacksonville Speedway (Jacksonville, IL)
Saturday, July 29 – Macon Speedway (Macon, IL)
Mitchell Wormall's 2017 Schedule in the States
Friday, June 16 – Attica Raceway Park (Attica OH) OHSW
Saturday, June 17 – Eldora Speedway (Rossburg, OH) OHSW
Sunday, June 18 – Waynesfield Raceway Park (Waynesfield, OH) OHSW
Monday, June 19 – Wayne Co. Speedway (Orrville, OH) OHSW
Tuesday, June 20 – Sharon Speedway (Hartford, OH) OHSW
Thursday, June 22 – Muskingum County Speedway (Zanesville, OH) OHSW
Friday, June 23 – Limaland Motorsports Park (Lima, OH) OHSW
Saturday, June 24 – Atomic Speedway (Chillicothe, OH) OHSW
Thursday, June 29 – Deer Creek Speedway (Spring Valley, MN) WoO
Saturday, July 1 – Knoxville Raceway (Knoxville, IA)
Friday, July 7 – Cedar Lake Speedway (New Richmond, WI) WoO
Saturday, July 8 – Cedar Lake Speedway (New Richmond, WI) WoO
Tuesday, July 11 – Attica Raceway Park (Attica, OH) Brad Doty Classic
Thursday, July 13 – Eldora Speedway (Rossburg, OH) WoO
Friday, July 14 – Eldora Speedway (Rossburg, OH) WoO
Saturday, July 15 – Eldora Speedway (Rossburg, OH) King's Royal
Tuesday, July 18 – Lernerville Speedway (Sarver, PA) Silver Cup
Friday, July 21 – Eriez Speedway (Erie, PA) All Stars
Saturday, July 22 – Atomic Speedway (Chillicothe, OH) OSCS
Sunday, July 23 – Tri-City Raceway Park (Franklin, PA) All Stars
Wednesday, July 26 – Peoria Speedway (Peoria, IL) MOWA ILSW
Thursday, July 27 – Tri-City Speedway (Granite City, IL) MOWA ILSW
Friday, July 28 – Jacksonville Speedway (Jacksonville, IL) MOWA ILSW
Saturday, July 29 – Macon Speedway (Macon, IL) MOWA ILSW
Bill W Media
Monroe, IA USA
sprntcar@hotmail.com
Twitter: @BillWMedia
Website: www.OpenWheel101.com